Underfloor Heating Costs
Since 2006, Wunda stands for unrivalled customer service and quality. We're here to help you in your journey to greater comfort and lower energy costs.
Get in touch today for an  estimate in 2 working days.
Request an Estimate
Request an Estimate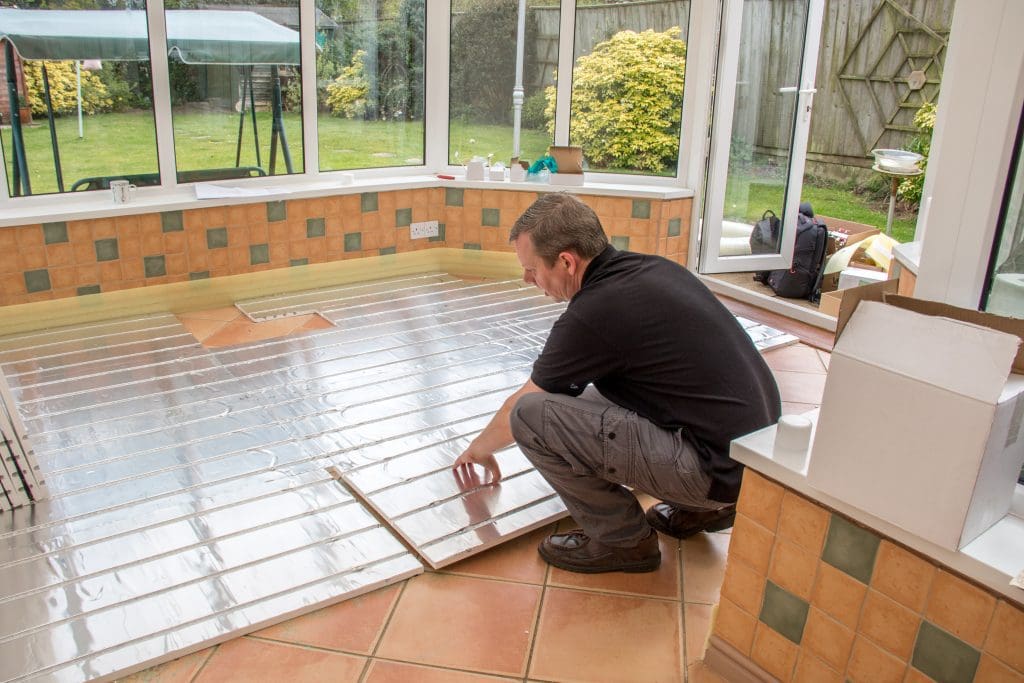 How Much does Underfloor Heating Cost to Install
Many people have the perception that underfloor heating is difficult to install and would involve high install costs. Involving huge pipes with lots of digging, it's often perceived as a costly and stressful process. However, with a Wunda Rapid Response® system, this couldn't be further from the truth.
There's no digging up floors and installation is easy and relatively hassle free. Easy for professional installers and competent DIYers alike.
While professional install costs can vary, 50m2 can be laid over a weekend by installers or competent DIYers.
Underfloor Heating Energy Efficiency
Underfloor heating uses low (35-45 degrees) water temperatures, making it a very eco-friendly system. It is the perfect partner for heat pumps as their optimum efficiency is producing water under 50 degrees.  
Underfloor heating systems will cost users around 25% less than radiators to run on average and 60% less than electric floor heating systems. When installing a Wunda Rapid Response® system which uses smart controls and zoning the savings can be up to 50%. 
A Wunda Underfloor Heating is arguably the most cost effective way of increasing the value and comfort of your home
Ground Floor
Often customers want the On Demand comfort the moment they step through their front door, so they fit Wunda Rapid Response® all across the ground floor!
---
Projects like this 57sqm renovation average from
£1,914 exc. VAT
Two Floor Renovation
When you're doing a renovation or extension project, it's important to give a thought to your resale market. Homes fitted with Wunda Rapid Response® are sought after and valued higher.
---
Projects like this two-floor 127sqm renovation average from
£4,498 exc. VAT
We recommend having regular servicing to maintain an efficient system, when you have the boiler serviced for example to check inhibitor levels are still ok, no air locks in the system causing poor performance. With regular preventative maintenance, you will have no problems of breakdown
The Rapid Response® heating system is a water-based floor heating system that uses low-temperature warm water to heat rooms evenly and quickly. Input temperatures can be as low as 45°C, using half the energy required to heat a radiator at 70-90°C.
This combined with the on demand nature of The Rapid Response® heating system, allows users to only heat the rooms they're using, and not have to leave the heating on all the time like old traditional screed systems which took days to heat and cool.
The responsive use and lower energy requirements to run the Rapid Response® heating system make it a low carbon solution that's compatible with current heating technology like gas/oil boilers; as well as working efficiently with alternative fuels of the future like hydrogen boilers and air & ground source heat pumps.
Our experts are more than happy to offer FREE advice before, during and after your system has been installed – just call or email us. Rest assured though that all of our components carry long guarantees and are backed up with a £10M Product Liability insurance with AXA.
Not at all! Wunda's floor heating systems have been developed with the confident DIYer in mind, being able to lay the pipe and panels, leaving final commissioning to the professionals. If you're extending or renovating, even simpler would be to make use of the builders already on-site and get them to install it for you.
Floor heating and radiators happily work in conjunction with one another, to achieve this you will need to 'T' off from your boiler primaries, so one set of flow and return will go towards your radiators and the other to your floor heating system. Any competent plumber can easily do this work for you.
Electric has much higher running costs in comparison to water based systems making it suitable for smaller areas such as en suites but not for larger living areas and whole homes. For open plan kitchen and family areas, water based systems are more economic costing up to 65% less to run than electric.
Most floor finishes can be used with floor heating, Wunda developed Rapid Response®, high density boards to support heavier floor finishes such as marble and stone tiles. These boards are independently approved by leading tile adhesive manufacturers to be laid directly on top without the need for an intermediary layer that other, less dense, boards may require, this helps to reduce system cost, build up height and lower install time.
If you're opting for a wood floor be sure to install a floor probe to protect the integrity of the wood from fluctuating temperatures and do check with your flooring supplier as some products such as Beech wood may not be compatible.
No, most users of floor heating install on the ground floor and combine the system with radiators upstairs – but you can install throughout the whole house if you wish.
Absolutely, water based floor heating runs at lower temperatures, normally 35°C – 55°C, which is about half of what radiators run at. Water based floor heating is future proof and can be run from any heat source including heat pumps.