Wood Floors with Underfloor Heating 

 
Contrary to many people's beliefs you can use wood with underfloor heating. However, it is important to remember that wood is a natural insulator so won't be as effective at spreading the heat as a natural conductor would be. The only two types of wood you cannot use with underfloor heating are maple and beech. It's always important to be safe and check with your flooring supplier if the flooring can be used with underfloor heating.  
Most wood floorings should not be heated beyond 27 degrees, our floor heating systems are limited and controlled by a floor probe provided for each area that you intend to have wood flooring.  
Installing Underfloor Heating with Wood Flooring 
Wood can be laid on the Wunda Rapid Response® boards free floating on underlay or stuck down with an approved wood adhesive (consult with your flooring supplier). The underlay or adhesive will be provided with the rest of your system. In general, it's a good idea to lay the finish perpendicular to the floor heating boards. This is something that can be taken into account at the underfloor heating design stage by CAD designers if you have thoughts on the how you wish your floor boards to run.  
Underfloor Heating Energy Efficiency
Radiator systems are the 20th century equivalent of a fireplace. They need your boiler or heat pump to supply  hot water temperatures (60-80 degrees) so that they can emit heat into the room.
Water based Underfloor heating works differently, it is like having a huge radiator spread out beneath your floor. Underfloor heating can cover the entire floor space allowing it to use much lower water temperatures (35-45 degrees) to transmit heat throughout the room, making it the go to energy efficient and sustainable system of choice.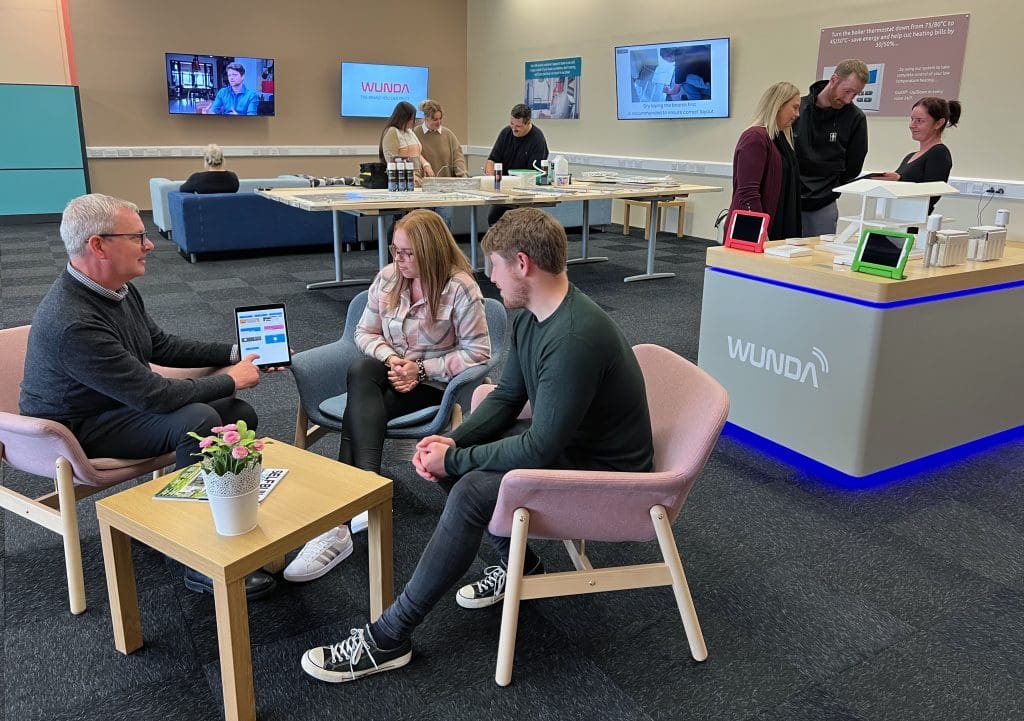 Get a Free estimate or book a showroom visit
For a free, no obligation estimate please send us your plans or get in touch. Wunda's 5 star Trustpilot rated team is here to help you get the right information and system design for you.