Water Underfloor Heating
Since 2006, Wunda has designed and supplied highly efficient and responsive underfloor heating systems with care for thousands of customers. Our systems are perfect for new and old homes.
Request a Quote
Request a Quote
So, What is Water Underfloor Heating?
High efficiency Underfloor heating systems use low temperature water (35-45°C) to warm a room.

Modern systems give fast heat up times (30-40 minutes).

With a Wunda system

, heating energy consumption can be reduced by: 25- 50% compared to radiators & 60% compared to Electric Underfloor heating. 
Radiators vs Underfloor Heating Comparison
Underfloor heating can provide the same or higher heat output than radiators.
Underfloor heating uses 35-45°C instead of 60-80°C Radiator water temperatures.
Lower temperatures reduce energy consumption and carbon emissions.
Changing to Underfloor heating will: reduce draughts and allergen movement and gives more space to furnish.
Radiators
Produce hot ceilings and cold floors because heat rises up where it pools until it's forced down by air circulation…
Underfloor Heating
Comfortable heating rises up naturally from the floor, warming everyone & everything from your feet up.
Running costs
Save money and the planet!
A zoned system only provides heat to the area you want it. Underfloor heating uses much lower temperatures than radiators. Only needing water at 35-45°C, saving you huge amounts on your utility bills.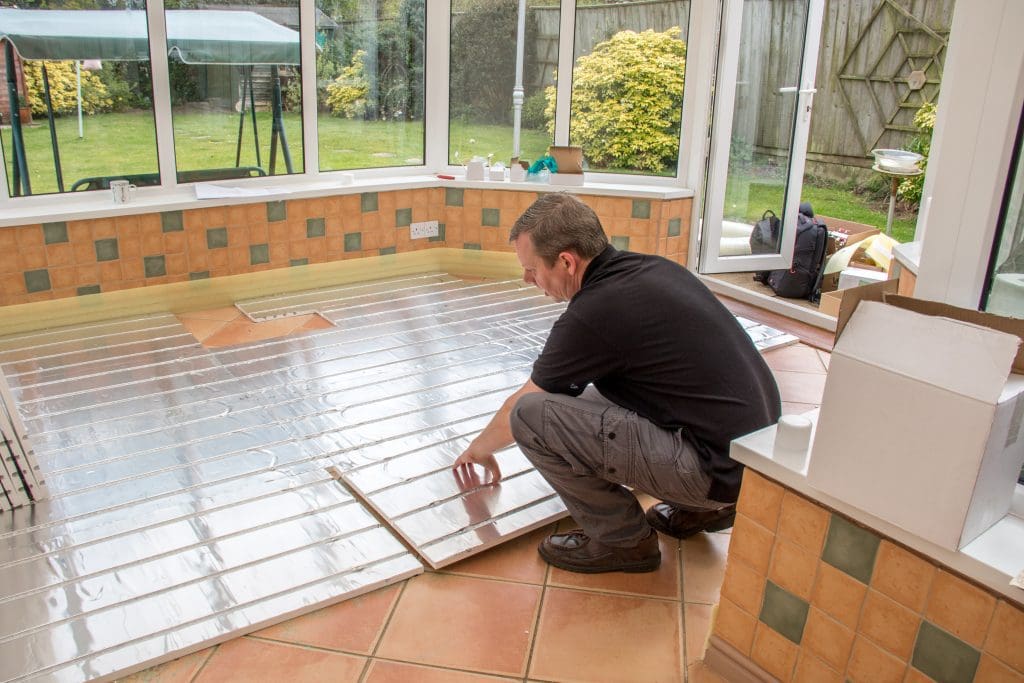 Wunda Rapid Response® Systems
Rapid Response® boards are easy to install by laying the panels on your existing floor. Wunda's Rapid Response® heating boards suit almost any floor finish with fast heat up and cool down times.
Get a free estimate
Send your plans or dimensions for a free no obligation estimate
Design your system and install
Place a small refundable deposit for a custom designed, highly efficient UFH system to suit your needs. Our 5-star Customer Care team are here 6 days a week to help you or your installer during and long after the install.
Enjoy your system!
Sit back and enjoy luxury comfort, lower heating bills and furnish your home with freedom with 15% more usable space.
Floor heating
Save on your heating bills, Control your comfort & Future proof your home.
Wunda Underfloor Heating Systems
Wunda offer a range of underfloor heating systems to suit all properties.
Why choose a Wunda water underfloor heating system?
For every project
A range of high performance systems, suitable for old and new properties that will work with any heat source.
Leak proof
No joins under the floor and 100% leak proof pipe.
Quality at a low price
System costs are competitive with radiator systems.
Cheap to run
Save money and the planet! Costs 30% less than radiators and 65% less than electric floor heating to run.
Rapid heat up time
Wunda's Rapid Response® heating system heats up and cools down in minutes.
Compatible with all boilers
Compatible with any heat source, including future heat pumps.
Not sure which UFH system is right for your upcoming project, compare the differences below.
| | | | |
| --- | --- | --- | --- |
| | Screed | Rapid Response® | Joist |
| Extensions | | | |
| New builds | | | |
| Renovations | | | |
| No need to dig up floors | – | | – |
| Fast heat up time | – | | – |
Underfloor heating for every project
Whether you're planning on a new build or renovation Wunda offers a modern solution to any build, from warm kitchen tiles to heated laminate flooring. 
Underfloor heating for different buildings
No matter what kind of building or renovation project you are doing; your choice of heating system should be a serious consideration. Especially with today's energy problems. Wunda's Water-based floor heating systems are the most efficient, controllable and comfortable heating systems available, getting maximum efficiency out of any heat source, boiler or heatpump.
Underfloor heating for different floor coverings
Underfloor heating works with 
most
 flooring types
, some work better than others but all work very well! 
It's
 always necessary to check with your flooring supplier for suitability and recommended installation techniques. 
Find out more about 
different 
floor finish
es
 here. 
Underfloor heating for different rooms
Water-based Underfloor Heating is a great solution for all rooms in your home, as it offers luxury comfort while being the most efficient heating system and lowest running costs available. Perfect for reception rooms, bedrooms and bathrooms alike.
Your Water UFH Questions
Electric has much higher running costs in comparison to water based systems making it suitable for smaller areas such as en suites but not for larger living areas and whole homes. For open plan kitchen and family areas, water based systems are more economic costing up to 65% less to run than electric. 
Learn more about the pros and cons of UFH
An underfloor heating system can be an ideal and cost-effective way of keeping your home warm. It can be easily installed yet does require a fair amount of preparation and time.
Even before installing an underfloor heating system, there are other ways to reduce heat loss in your home which can prove easy and budget-friendly.
Many people have the perception that underfloor heating is incredibly difficult to install. Involving huge pipes with lots of digging, often leading to them thinking it will be a costly and stressful process. However, with a Wunda Rapid Response® system, this could not be further from the truth.
There's no digging up floors and installation is easy and relatively hassle free. 75m2 could be laid over a weekend by competent DIYers ready for your professionals to hook up to your heat source.

Find out more about underfloor heating cost.
Warm water is pumped from the heat source to the manifold. If the floor heating requires warm water, the thermostatic valve will open allowing heated water into the manifold. From the manifold, heated water is pumped around the floor heating pipes, returning to the manifold and then either released back to the boiler/heat source via the boiler return valve for re-heating or blended back into the floor loop via a one-way valve. When all rooms reach desired temperatures, the room thermostats will signal to the actuators and pump to shut down, this in turn stops heated water circulating through the floor.
Retrofitting underfloor heating can be a relatively easy process without the need to dig up the floors throughout your house. Wunda's easy to install system comes with so many benefits, it warms up just as quickly as radiators and runs at a lower flow temperature which uses much less energy.
UFH circulates warm water through the plastic pipes to effectively heat up the floor first and allow for a warm living area with a cool ceiling. The water's temperature can be between 35 and 55°C which is regulated by a mixing valve at the manifold.
Find the Ideal Temperature for Underfloor Heating in your home
Tile and natural stone floors work perfectly with underfloor heating as they are natural conductors. One thing to remember with these floor finishes is the thicker they are, the longer your response time will be and the longer the floor finish itself will hold the heat and take to cool down.
Learn more about UFH and floor coverings.
Underfloor heating systems will cost users around 25% less than radiators to run on average and 60% less than electric floor heating systems. When installing a Wunda Rapid Response® system which uses smart controls and zoning the savings can be up to 50%.
Learn more about underfloor heating efficiency
Wunda's easy to install system comes with so many benefits, it warms up just as quickly as radiators and runs at a lower flow temperature which uses much less energy. You'll be able to heat each room separately, and your home will be far more comfortable with heat rising from the floor and heating the whole room.
Got a question or need some help?
Visit our support hub for FAQs, How-to videos or to contact one of our experts.
Quick Links