Rapid Response® 
Easy installation! All you need is a plumber to commission the system and an electrician to fit your controls.
Fast heat ups & cool downs
Wunda's Rapid Response® Overfloor Heating System heats up and cools down in minutes.
Adjustable & controllable
Heat when you want it with fast aluminium coated Rapid Response® boards.
Leak proof pipes
No joins under the floor and 100% leak proof pipe.
No need to dig up floors
No mess, no hassle, just spray and lay on existing floors.
Low maintenance
Very low maintenance and reliably consistent, it just works!
Compatible with all boilers
Compatible with any heat source, including future heat pumps.
Wunda Rapid Response® boards have close pipe centres and aluminium for On Demand heating and optimum control.
| | | | |
| --- | --- | --- | --- |
| | Screed | Rapid Response® | Joist |
| Extensions | | | |
| New builds | | | |
| Renovations | | | |
| No need to dig up floors | – | | – |
| Fast heat up time | – | | – |
Underfloor Heating Energy Efficiency
Wunda Underfloor heating uses low (35-45 degrees) water temperatures, making it a very eco-friendly system. It is the perfect partner for heat pumps as their optimum efficiency is producing water under 50 degrees.  
Wunda Underfloor heating systems will cost users around 25% less than radiators to run on average and 60% less than electric floor heating systems. When installing a Wunda Rapid Response® system which uses smart controls and zoning the savings can be up to 50%. 
Quality at a low price
A high quality system for the lowest possible price. Backed up with great service and industry guarantees. It's not rocket science! Just affordable luxury & comfort – Direct from the manufacturer
Watch DIY couple Naomi & Ben install Wunda's Rapid Response® Heating System on the first floor of their home.
Watch Video
Developed, Engineered - It just works!
Over 10 years of research and development has gone into perfecting Wunda's Rapid Response® heating system, it's not rocket science, just affordable luxury & comfort – and it just works!
See the System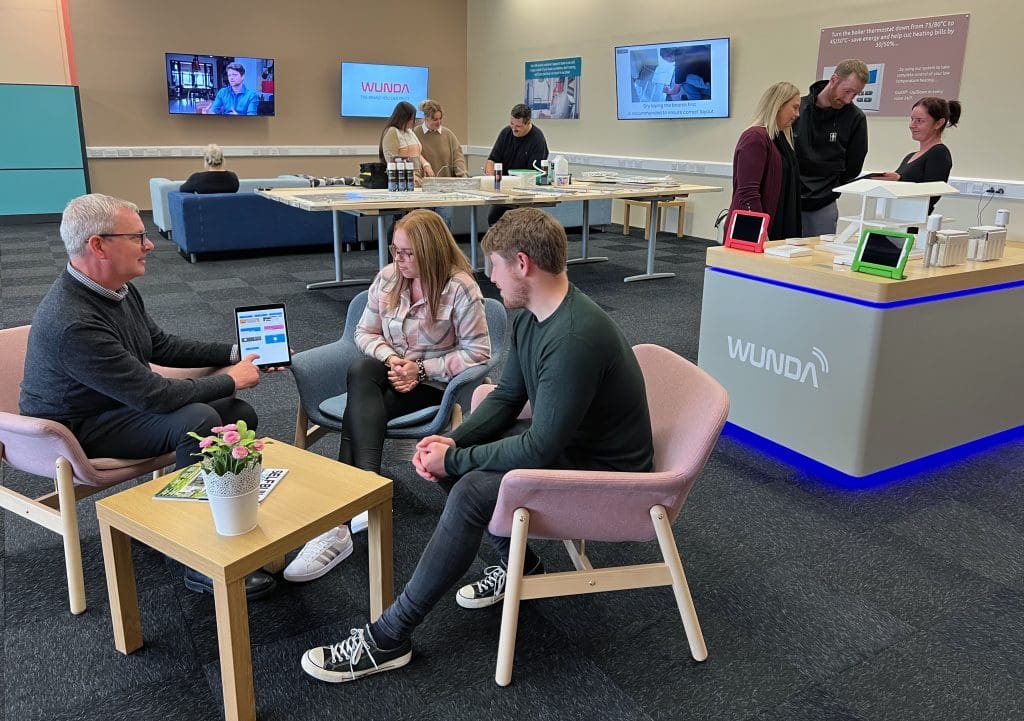 Get a Free Estimate or Book a Showroom Visit
For a free, no obligation estimate please send us your plans or get in touch. The Wunda 5 star Trustpilot rated team is here to help you get the right information and system design for you. 
"It's invisible, it just works"

Ben Hillman
Customer, Interior Designer & TV Presenter
Your Questions
We recommend having regular servicing to maintain an efficient system, when you have the boiler serviced for example to check inhibitor levels are still ok, no air locks in the system causing poor performance. With regular preventative maintenance, you will have no problems of breakdown
A Rapid Response® floor heating system produces heat in as little as 30 minutes because it has a level of controllability not seen before in under floor heating. Combined with our Home Heating Controls it can be turned on, off, up, down in individual areas of the home at the touch of a button on your smart phone, Ipad or laptop from wherever
The Rapid Response® heating system is a water-based floor heating system that uses low-temperature warm water to heat rooms evenly and quickly. Input temperatures can be as low as 45°C, using half the energy required to heat a radiator at 70-90°C.
This combined with the on demand nature of The Rapid Response® heating system, allows users to only heat the rooms they're using, and not have to leave the heating on all the time like old traditional screed systems which took days to heat and cool.
The responsive use and lower energy requirements to run the Rapid Response® heating system make it a low carbon solution that's compatible with current heating technology like gas/oil boilers; as well as working efficiently with alternative fuels of the future like hydrogen boilers and air & ground source heat pumps.
Rapid Response® on demand heat can reach desired temperatures in as little as 30 minutes.
This is thanks to all the work done in developing the Rapid Response® aluminium that's used in both the board and pipe.
No, the spray contains no carcinogens and is CFC free.
Not at all! Rapid Response® boards are retro-fitted to the existing floor using our Wunda adhesive spray.
This saves time & cost in the installation as well as avoids any potential risks in digging up decades-old concrete substrates.
Rapid Response® is available in 16mm & 20mm profile boards.
The Rapid Response® boards come in 3 densities of EPS (Expanded Polystyrene), our Premium+ range is our strongest and most insulative board.
We got it tested at the University of Salford by their UKAS accredited product testing lab and got the following results back:
20mm of Rapid Response® has an R-value of 0.447 (+/- 2%)
16mm of Rapid Response® an R-value of 0.379 (+/- 2.8%)
So in comparison to a system using just radiators, it's superior in insulation and will heat more sufficiently with better energy efficiency.
Wunda only provides pipe which is 100% leak proof. By using a 5 layered pipe comprised of an EVOH barrier to prevent oxygen ingress and rusting the aluminium core as well as Pert for superior flexibility.
We also pressurise the pipe at the point of manufacture, so you know instantly before putting it in the floor whether the product's been comprised in transit. In over 14 years of manufacturing and supplying floor heating, we've never had a leak. Ever.
Thanks to retro-fit systems like Rapid Response® 100m2 can be laid in just two days using quick drying Wunda Spray adhesive. It's no longer a case of digging all your floors up, simply take up your carpet, prepare your sub-floor and lay a retro-fit system. 
Got a question or need some help?
Visit our support hub for FAQs, How-to videos or to contact one of our experts.
Quick Links
The best, the fastest, the cheapest.
Professionals are dealing with your project.
Many thanks

– Euro Flow Plumbing
Great service.

Ordered part on Tuesday, arrived Wednesday. Excellent service.

– Richard
Good honest company, very helpful over the phone.

– Peter Garner
Quality

Excellent product, delivery and exceptional customer service – highly recommended!

– Bernadette Day
<
>