Summer Warmth all Winter Long, with Rapid Response® Overfloor Heating
Easy install for home improvements and newbuilds.
Room warm up times from 20 minutes.
Unbeatable comfort with the lowest running costs.
Request a Quote
Request a Quote
What Is Rapid Response® Underfloor Heating?
Wunda's Rapid Response® underfloor heating system uses  pipes fixed in Rapid Response® panels that sit between the structural base and floor finish.
The system is easy to install and easy to control.  Quickly heating a room (from 20 minutes) using the lowest possible water temperatures 30-45°C. Ideal for new homes, renovations and home improvement projects.
No other heating system rivals the level of comfort & control, while maintaining the lowest possible running costs.
Things to Consider about Rapid Response® Underfloor Heating
The system uses Rapid Response® panels that come in two sizes, 16mm and 20mm. In new build projects we recommend building this depth into your calculations. In retro-fit projects the main consideration is ceiling height and adjusting your door heights.
Why choose Wunda Rapid Response® underfloor heating 
Fast heat ups & cool downs
Wunda's Rapid Response® Overfloor Heating System heats up and cools down in minutes.
Adjustable & controllable
Heat when you want it with fast aluminium coated Rapid Response® boards.
Leak proof pipes
No joins under the floor and 100% leak proof pipe.
Easy Install
No need to dig up floors, no hassle. Perfect for competent DIYers.
Low maintenance
Very low maintenance and reliably consistent, it just works!
Compatible with all boilers
Compatible with any heat source, including future heat pumps.
3 Steps to Comfort...
Get a free estimate
Send your plans or dimensions for a free no obligation estimate
Design your system and install
Place a small refundable deposit for a custom designed, highly efficient UFH system. Our 5-star Customer Care team are here 6 days a week to help you or your installer during and long after the install.
Enjoy your floor heating!
Sit back and enjoy luxury comfort, lower heating bills and furnish your home with freedom with 15% more usable space!
High-Efficiency System Design
Wunda is renowned for its high-efficiency underfloor heating system designs. With a deep understanding of heating technology and a commitment to innovation, Wunda consistently delivers cutting-edge solutions that provide optimal comfort and energy efficiency.
Underfloor Heating Efficiency and  Heat Sources
Wunda's Rapid Response® Underfloor heating systems give the most efficient results from any heat source. Due to less energy being used to produce low water temperatures 30-45°C. Perfect for any boiler or Ground Source or Air Source Heat Pump.
Rapid Response® underfloor heating is suitable for all floor finishes
PERT / AL / PERT Pipe
Available in 16mm or 12mm to fit your desired solution, featuring an oxygen barrier for increased lifetime and aluminium core for greater thermal conductivity.
Board Heights To Suit Your Project.
20mm Board
Made from high density recyclable expanded polystyrene (EPS) and uses 16mm pipe with 4 channels spaced 150mm apart for maximum efficiency.
22mm Board
Made from Acoustic Fibre with a sound suppression rating of up to -59db. Uses 16mm pipe in 4 channels spaced 150mm apart for maximum efficiency.
16mm Board
Made from high density recyclable expanded polystyrene (EPS) and uses 12mm pipe with 5 channels spaced 120mm apart for maximum efficiency.
<
>
Compare systems
Not sure which UFH system is right for your upcoming project, compare the differences below
| | | | |
| --- | --- | --- | --- |
| | Screed | Rapid Response® | Joist |
| Extensions | | | |
| New builds | | | |
| Renovations | | | |
| No need to dig up floors | – | | – |
| Fast heat up time | – | | – |
Underfloor Heating Knowledge Hub
Find out all you need to know about underfloor heating for your property or room.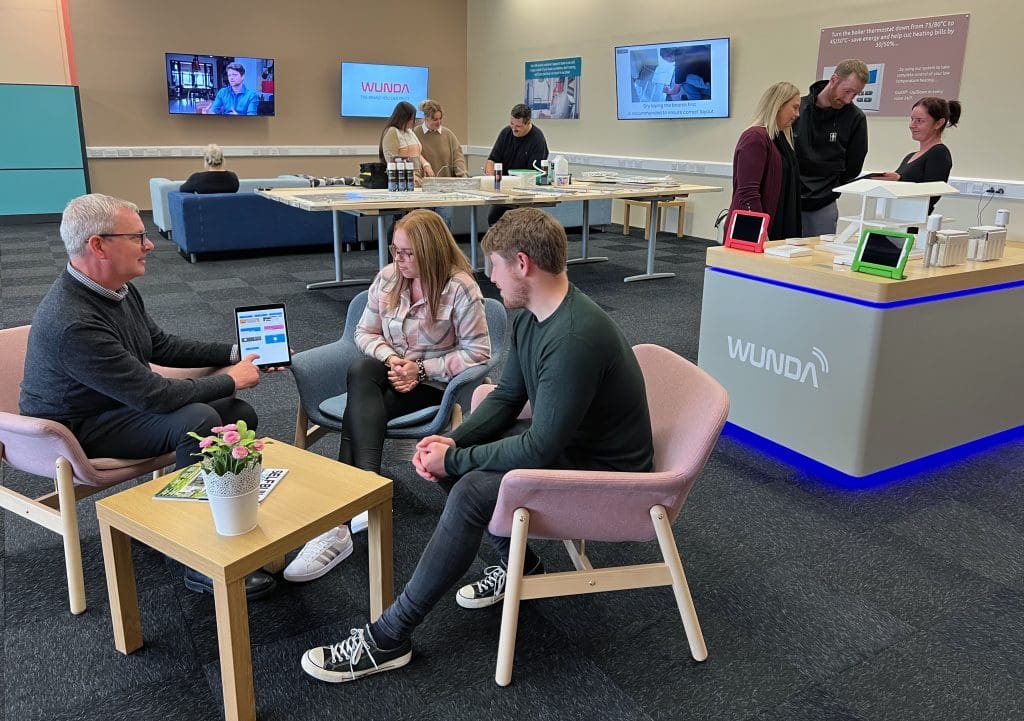 Get a Free Estimate
For a free, no obligation estimate please send us your plans or get in touch. The Wunda 5 star Trustpilot rated team is here to help you get the right information and system design for you. 
Your Questions
We recommend having regular servicing to maintain an efficient system, when you have the boiler serviced for example to check inhibitor levels are still ok, no air locks in the system causing poor performance. With regular preventative maintenance, you will have no problems of breakdown
A Rapid Response® floor heating system produces heat in as little as 30 minutes because it has a level of controllability not seen before in under floor heating. Combined with our Home Heating Controls it can be turned on, off, up, down in individual areas of the home at the touch of a button on your smart phone, Ipad or laptop from wherever
The Rapid Response® heating system is a water-based floor heating system that uses low-temperature warm water to heat rooms evenly and quickly. Input temperatures can be as low as 45°C, using half the energy required to heat a radiator at 70-90°C.
This combined with the on demand nature of The Rapid Response® heating system, allows users to only heat the rooms they're using, and not have to leave the heating on all the time like old traditional screed systems which took days to heat and cool.
The responsive use and lower energy requirements to run the Rapid Response® heating system make it a low carbon solution that's compatible with current heating technology like gas/oil boilers; as well as working efficiently with alternative fuels of the future like hydrogen boilers and air & ground source heat pumps.
Rapid Response® on demand heat can reach desired temperatures in as little as 30 minutes.
This is thanks to all the work done in developing the Rapid Response® aluminium that's used in both the board and pipe.
No, the spray contains no carcinogens and is CFC free.
Not at all! Rapid Response® boards are retro-fitted to the existing floor using our Wunda adhesive spray.
This saves time & cost in the installation as well as avoids any potential risks in digging up decades-old concrete substrates.
Rapid Response® is available in 16mm & 20mm profile boards.
The Rapid Response® boards come in 3 densities of EPS (Expanded Polystyrene), our Premium+ range is our strongest and most insulative board.
We got it tested at the University of Salford by their UKAS accredited product testing lab and got the following results back:
20mm of Rapid Response® has an R-value of 0.447 (+/- 2%)
16mm of Rapid Response® an R-value of 0.379 (+/- 2.8%)
So in comparison to a system using just radiators, it's superior in insulation and will heat more sufficiently with better energy efficiency.
Wunda only provides pipe which is 100% leak proof. By using a 5 layered pipe comprised of an EVOH barrier to prevent oxygen ingress and rusting the aluminium core as well as Pert for superior flexibility.
We also pressurise the pipe at the point of manufacture, so you know instantly before putting it in the floor whether the product's been comprised in transit. In over 14 years of manufacturing and supplying floor heating, we've never had a leak. Ever.
Got a question or need some help?
Visit our support hub for FAQs, How-to videos or to contact one of our experts.
Quick Links