Modern 4 Bedroom Home Open Plan Kitchen / Dining.
New open-plan kitchen-living-diner
WUNDA Rapid Response Overfloor®
Installed by builders & heating engineer
Request an Estimate
Request an Estimate
Project Type   

 

 
This installation was included as part of a renovation project to a detached modern home.
The wall between the kitchen and the study was knocked down, as well as the half wall towards a conservatory making one huge room.
Product: WUNDA Rapid Response Overfloor® with WundaSmart® Controls
Area: Open plan kitchen/diner/conservatory and hallway
Days: 2-3 Days
Installation Process
In this project Wunda Rapid Response Overfloor® heating was installed as part of a renovation to merge three rooms into one, creating a bright, flexible kitchen for entertaining, working and relaxing.
Wunda Rapid Response Overfloor® ensures large open living spaces are heated efficiently, evenly and consistently.
The underfloor heating system was designed by the Wunda team to take into account the kitchen island and other fixed storage space.
The floor was levelled in some uneven places using levelling screed and once dry swept clear. Ready for the Rapid Response® panels to be laid and fixed in place.
The underfloor heating system was also laid in the hallway and the manifold was situated in a hallway cupboard.
Once the pipe was laid and the system was pressure tested, huge 1.2 sq m porcelain tiles were fixed directly onto the rapid response boards. Using the guaranteed and approved primer and adhesive. With the warm water pipes just beneath the floor finish, heat-up times are very fast!
WundaSmart heating controls were installed in the entire property. The underfloor heating system and all upstairs radiators are controlled and scheduled using the WundaSmart app.
With WundaSmart controlling the heating in every room it's easy to schedule and set the temperature in each space individually.
Find out more about Wunda Rapid Response Overfloor®
WundaSmart Control
WundaSmart heating controls were installed throughout the whole home by installing an underfloor heating connection box (net to the manifold) and smart radiator heads to very other room.
Each room is controlled separately using the WundaSmart app so the temperature can be scheduled or manually adjusted on a room by room basis.
"What we love aesthetically about the underfloor heating in our kitchen is the fact we don't need radiators, so we have been able to use every square cm of the room very cleverly and carefully. And nothing beats getting up early in the morning and padding barefoot onto a warm kitchen floor to make the breakfast." – Susan Tyldesley
"WundaSmart is just genius! We both travel a lot and it is great to know that if the heating has been off or set at an absolute minimum in our absence, we can use the app to monitor the temperature in any room and set it to come on just before our arrival home – from wherever in the world we are." – Clive Tyldesley
<
>
Final Floor Finish
Large format porcelain tiles weighing 40kg each were fixed directly to the smart radiator heads and thermostats were also fitted to the Rapid Response® boards using the approved primer and adhesive throughout the kitchen-diner and hallway.
With the warm water pipes just beneath the tiles it is warm under foot within minutes.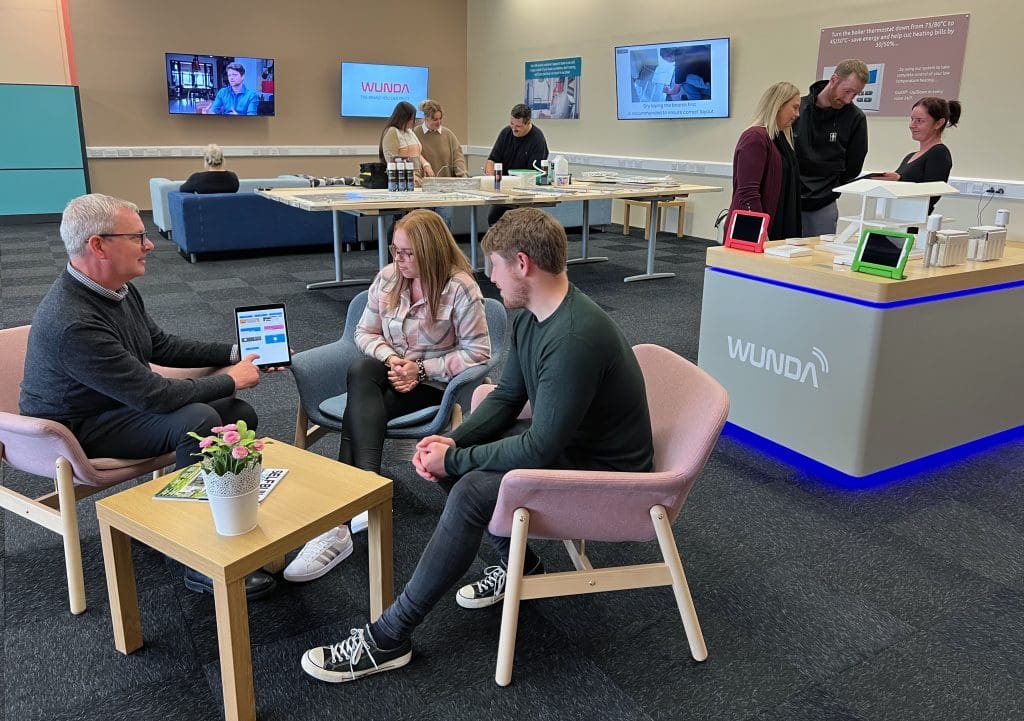 Get a free estimate or book a showroom visit
For a free, no obligation estimate please send us your plans or get in touch. Wunda's 5 star Trustpilot rated team is here to help you get the right information and system design for you. 
Case Studies
Delve into our collection of real-world examples to gain insights and inspiration for your own projects.
knowledge Hub
Unlock the potential of underfloor heating for your project. Dive deeper into its adaptability and advantages to see how it can seamlessly integrate with your unique needs and requirements.
Explore More