Project Type   

 

 
Installation on the ground floor of a Victorian coach house built in 1888 as part of a renovation project for the entire property.
Product: WUNDA Rapid Response Overfloor®
Rooms: Kitchen, lounge, hallway and shower room
@thecoachhousebroadstairs
Installation Process
The home owners of this 1800s victorian coachhouse were keen DIY enthusiasts ready for a challenge.
Wunda Rapid Response Overfloor® heating was a perfect system to install as part of this retrofit.
Using the board and pipe layout drawings supplied by Wunda, the home owners were able to carry out the installation themselves. The Rapid Response® panels were fixed to the wooden ply board subfloor using Wundaspray bonding adhesive following the layout plan provided.
With the boards in place the pipe was run by slotting into the pre cut channels running in a complete loops starting and finishing at the manifold.
As the final floor finish was engineered oak wood floor boards a  floor probe was installed into one of the rapid response boards.
Find out more about WUNDA Rapid Response Overfloor®
Final Floor Finish
After much deliberation the home owners decided on engineered oak wooden flooring.
Deciding the final floor finish before installing the rapid response boards ensures the correct preparation is made eg. installing a floor probe.
"A floor probe is an important part of any installation using a wooden floor finish to monitor and control the maximum temperature allowed as stated by the flooring manufacturer." – Tech Support
A floor probe was embedded under the flooring to ensure the manufacturers temperature limit for the oak would never be exceeded.
Tiles were installed in the shower room.
"If you asked us a year ago if we could lay an underfloor heating system, we'd tell you no way, not a chance.
Today, what we thought was incredibly daunting and difficult has just been achieved!
450m worth of pipe running through our downstairs area, heating up 3 zones: kitchen, lounge, hallway and shower room. We laid the insulation, built the timber subfloor, installed the heating panels and laid all the pipe work ourselves!
<
>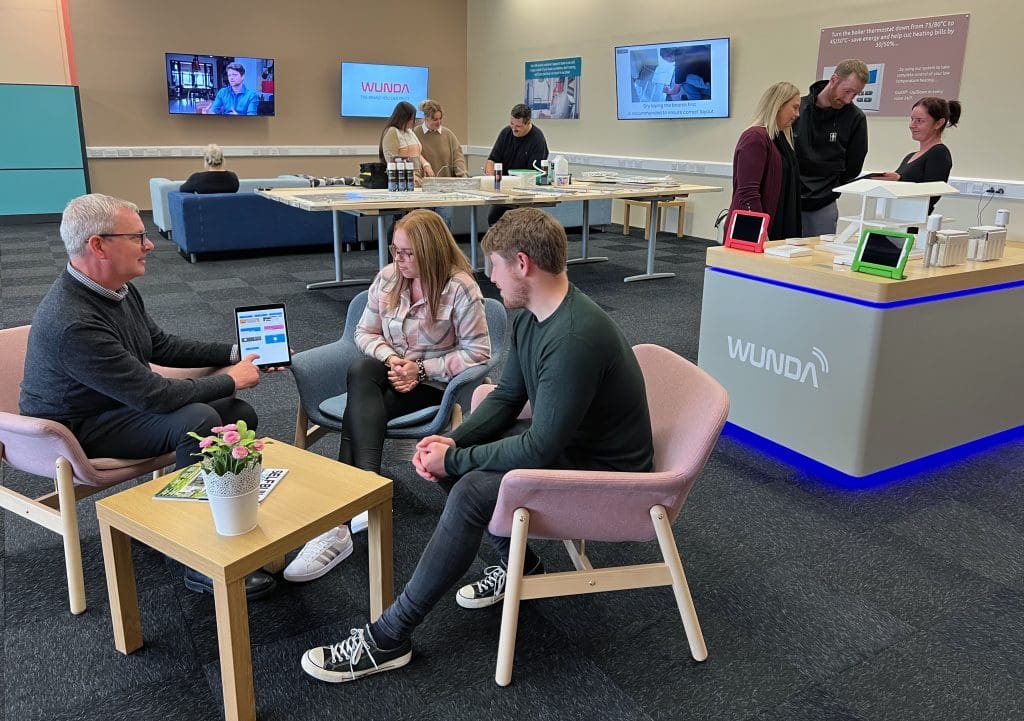 Get a free estimate or book a showroom visit
For a free, no obligation estimate please send us your plans or get in touch. Wunda's 5 star Trustpilot rated team is here to help you get the right information and system design for you. 
Case Studies
Delve into our collection of real-world examples to gain insights and inspiration for your own projects.
Knowledge Hub
Unlock the potential of underfloor heating for your project. Dive deeper into its adaptability and advantages to see how it can seamlessly integrate with your unique needs and requirements.